NEW MILLS
NATURAL HISTORY
SOCIETY
Founded 1969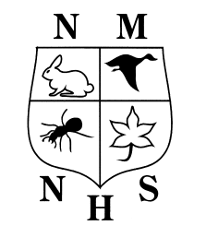 We are based in New Mills, High Peak, Derbyshire.
Members are interested in all forms of wildlife, as well as geology.
We hold at least two field meetings per month (on rotating days of the week).
Monthly indoor meetings (talks), usually on third Friday of the month at 7.30 p.m., from September to April.
Wildlife holidays in May and September.
Manages two nature reserves.
If you are interested in joining, or would like to find out more, please email our chairman, John Hawksford on This email address is being protected from spambots. You need JavaScript enabled to view it.
Please note that all members attending field meetings do so at their own risk.
Field meetings usually start at the front of the Town Hall at 10.00 a.m. and you should normally take packed lunch and be prepared for rough walking, stiles and mud. If you are uncertain about your ability you should contact the leader beforehand.
Where a pub lunch is indicated you are usually required to book in advance.
Children, but not pets please, are welcome if adequately supervised.
New Mills town hall, main hall, 7.30 p.m.
(Access is from the car park in front of the Town Hall, or at the rear via Aldersgate.)
Non-members are welcome: £2.